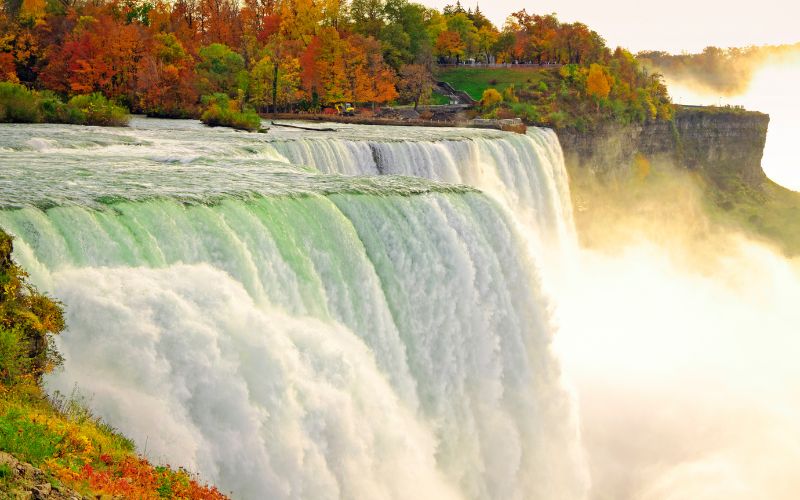 A visit to Niagara Falls is an unforgettable experience for everyone, from families with children to couples seeking a romantic getaway. Niagara Falls offers an array of activities and attractions that will inspire and delight you, whether you're interested in culinary experiences or historical sites.
Stay on Clifton Hill for easy access to Niagara Falls' top attractions, including Ripley's Believe It or Not! Odditorium and Nightmares Fear Factory and great restaurants like Planet Hollywood and Rainforest Café.
At the top of the list of things to do at Niagara Falls is getting close to the thunderous waterfalls themselves. You can view them from above, but there's nothing quite like experiencing them up close on board a Hornblower cruise (formerly Maid of the Mist). After you've gotten soaked by the power of nature, you can explore other nearby attractions like Journey Behind the Falls and White Water Walk.
If you have young children, don't miss seeing Niagara Falls from their perspective at the Bird Kingdom and Butterfly Conservatory. Try out Wildplay Element Parks or Whirlpool Aero Car if you're looking for a thrill. Or, if you want to pick up souvenirs and grab a bite to eat, check out Lundy's Lane or Clifton Hill in Niagara Falls. Niagara-on-the-Lake is also worth visiting if you want to experience some culture near Niagara Falls.
Ottawa, Ontario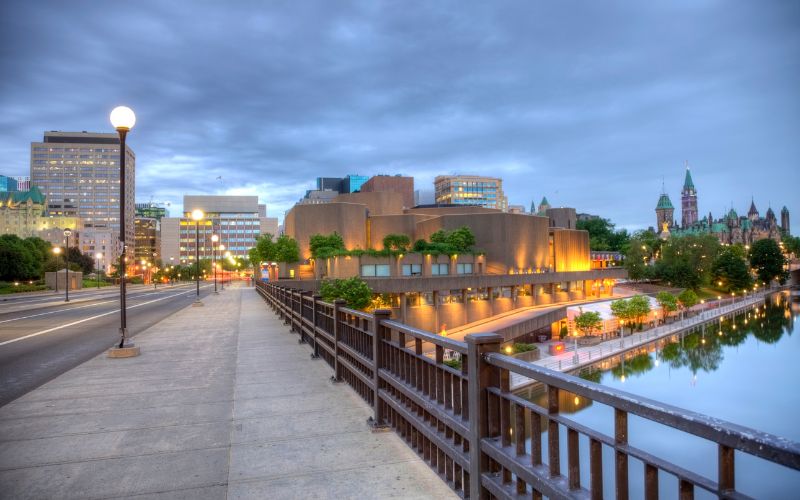 Ottawa is a city with a lot of heart and soul. It's one of the most beautiful cities in Canada, with many historic buildings and awe-inspiring architecture to explore. You'll find great restaurants, shops, and galleries on Bank Street and the Byward Market. If you love the outdoors, take a short drive out to Gatineau Park, where you can go hiking, cycling, and cross-country skiing. You'll also want to check out some of the best museums in Canada, including the National Gallery of Canada (which is home to the world's most comprehensive collection of Inuit art), the Canadian Museum of History, and the Canadian Museum of Nature.
Ottawa is the capital of Canada and its fourth-largest city. It's located in Ontario at the Quebec border. For such a large city, it's pleasantly walkable and very clean. The most popular attraction, Parliament Hill, is surrounded by beautiful parks and gardens. It's also a cultural center with world-class museums and galleries.
Parliament Hill is a must-see when visiting Ottawa. It has three buildings: the Library of Parliament, the East Block, and the Centre Block (which includes the Peace Tower). While walking around Parliament Hill you can visit outdoor sculptures and monuments, or take a free guided tour of some of the historic buildings on site.
The Rideau Canal (a UNESCO World Heritage Site) runs through downtown Ottawa, right past Parliament Hill. During the summer months, you can rent a bicycle or in-line skates to travel along its scenic paths. In winter, you can ice skate along the canal for 7.8 miles to Dows Lake Pavilion, then skate back again!
Downtown Ottawa has many museums worth visiting. You could spend an entire day at The Canadian Museum of History (formerly called the Canadian Museum of Civilization), which has over 1 million artifacts on display from Canada's history and indigenous cultures (such as totem poles).
Montreal, Quebec
Montreal is one of my favorite cities in Canada – it's so charming! If you're looking for a romantic weekend getaway in Canada, consider Montreal. The city is full of delicious food (you must try poutine!), romantic cafes, and interesting museums including the Montreal Museum of Fine Arts, where we saw an incredible exhibit about Frida Kahlo last year.
Montreal is a French-speaking city in Canada, located in the province of Quebec. It offers some of the best weekend getaways in Canada. The Old Town of Montreal, known as Vieux-Montréal, is full of European charm. You can start a walking tour from the City Hall and visit City Hall Undergrounds, Marché Bonsecours, and Notre-Dame Basilica, which are some of the most visited sites in Montreal.
Montreal is one of the best weekend getaways in Canada. It's a truly unique city that is both French and English in character, with a European flair that's hard to miss. Montreal is also the second-largest city in Canada, and its residents are some of the most fun and welcoming people you will ever meet.
Although it may feel like you're in Europe when you visit Montreal, it's just a short plane ride or drive from many major cities in the U.S., including Boston, New York City, and Philadelphia. It's also less than an hour from Vermont by car or train, which makes it a great choice for a weekend getaway from Burlington or other parts of the Green Mountain State.
Whether you're traveling to Montreal for business or pleasure, use this guide to plan your trip and enjoy all that this unique city has to offer. You can also visit the Pointe-à-Callière Museum featuring a section on archaeology and another one on the history and development of Montreal. There's a fun multimedia show with holograms on display at Place Royale square.
If you like to take nature walks, you can explore Mount Royal Park, which is a lush green space with panoramic views of the downtown skyline. You can also visit Parc Jean-Drapeau with its beautiful F1 race track (Circuit Gilles Villeneuve), La Ronde amusement park, and scenic islands connected by footbridges.
If you're looking for unique souvenirs to buy or gifts to bring back home, head over to Marche Jean-Talon Market or Atwater Market where you can find fresh fruits and vegetables