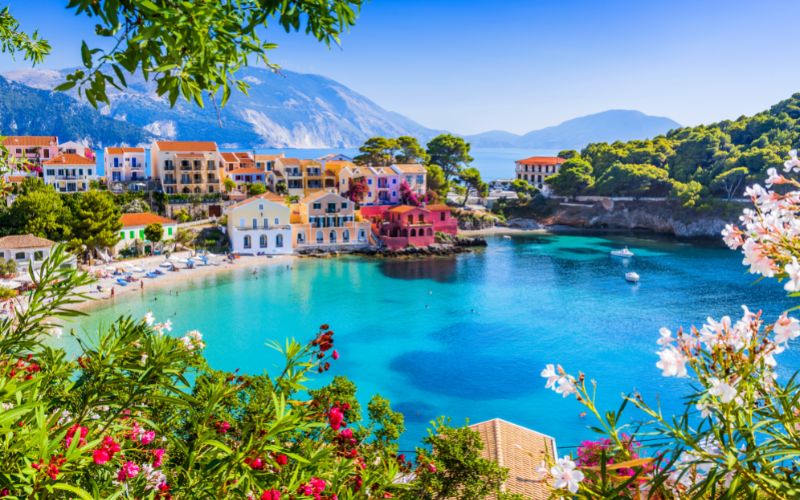 2. France
France is one of the most beautiful countries in Europe, and it has a lot to offer. You can visit the most popular cities such as Paris, Marseille, and Lyon to learn about the culture and heritage of this magnificent country.
You can also go to the countryside and immerse yourself in stunning nature. The best place to do that is in the French Alps. It is a mountain range located in southeastern France. The French Alps offer many things to do for active travelers who want to get closer to nature and enjoy outdoor activities. There are fantastic hiking trails, picturesque villages, scenic lakes, breathtaking peaks, etc.
There are over 15 amazing places in the French Alps that you should visit on your next trip to France.
France, a country of 65 million people in Western Europe, is among the world's most geographically diverse nations, containing the snowcapped peaks of the French Alps, the flower-filled fields of Provence, and the glamorous beaches of the Cote d'Azur. It also has a rich history and culture, which you can explore in its many museums, from the Louvre to the Centre Pompidou. The capital is Paris, a global center for art, fashion, gastronomy, and culture.
The Eiffel Tower is an iconic symbol for Paris and France. Gustave Eiffel constructed it for the 1889 World's Fair. France's charming towns offer visitors a chance to get away from it all. The city of Nice on France's Mediterranean coast offers visitors a wealth of historical sites and cultural attractions.
3. Italy
Italy is a country with more history and culture packed into it than many other countries combined. It has some of the most beautiful cities globally, and there is so much to see and do in each of them.
Italy is a country that is still very much defined by its past. From the ancient Romans to the Renaissance, Italy has been a major center of art, science, and literature. This is evident in its historic cities, among the most beautiful in Europe. While Italy's major cities are full of history and culture, they also offer plenty for travelers who prefer to spend time outdoors. For example, Rome has beautiful scenery that makes for a lovely hike or bike ride.
Some of the best parts about visiting Italy are the delicious foods you can try while there. You'll find something delicious at every meal, from pizza to pasta, gelato (ice cream), and cannoli (a pastry stuffed with ricotta cheese)!
Italy is a country in Southern Europe. Together with Greece, it is acknowledged as the birthplace of Western culture. It is also home to the greatest number of UNESCO World Heritage sites globally. High art and monuments are to be found everywhere around the country. Tuscany, Umbria, and the South of Italy (Naples, Pompeii, and Amalfi Coast) are also famous for their fine food and wine.
Italy is one of those countries you will want to visit again and again, visiting new places each time. It's a country rich in history, culture, and beauty but what makes Italy stand out to me are the Italians themselves and how they love life. They drink wine every day and have large family meals together on weekends where they laugh, talk, and eat until late into the night.